Swedish riots
rage for fourth night
Police attacked and cars torched in Stockholm suburbs as unrest sparked by long-term youth unemployment and poverty spreads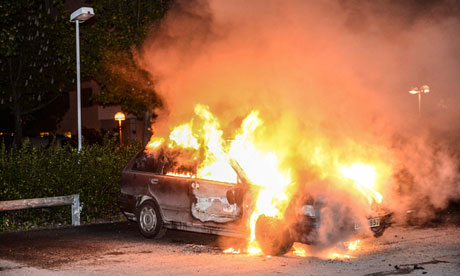 Hundreds of youth have burned down a restaurant, set fire to more than 340 cars and attacked police in a fourth night of rioting in the suburbs of the Swedish capital, shocking a country that dodged the worst of the financial crisis but failed to solve youth unemployment and resentment among asylum seekers.
Violence spread across Stockholm on Wednesday, as large numbers of youung people rampaged throiugh the suburbs, throwing stones, breaking windows and detroying cars. Police in the southern city of Malmo said two cars had been set ablaze.
Media reports said a police station office was set on fire in Stockholm's southern suburb of Rågsved, where several people were also detained. No one was hurt and the fire was quickly put out.
Rioters defied a call for calm from the country's prime minister, going on the rampage after nightfall damaging stores, schools, a police station and an arts and crafts centre in the four days of violence.
http://www.guardian.co.uk/world/2013/ma ... -stockholm